We get out. Ok, that sounds a bit drastic now. But to be precise: We are phasing out the sale of OMNIA© products! Also all other products: OXO, Dreamfarm, Quirls….
Sometimes it is time for change. But there is no clock for change. No specific time. There are signs. Gut feeling. Or simply a situation that changes everything…
And then you get the famous kick in the butt that initiates the change. We got that from an unforeseen situation and my gut feeling.
My gut feeling has been telling me for a long time: something is wrong! I have not been well for a long time. The idea of doing something different had been haunting me for a long time. To change something. YouTube is one of those things. The Blog. The Shop. The delivery difficulties of some products. Somehow everything doesn't fit. And due to an unforeseeable situation, we will now (have to) adapt and change again. And that's why we're getting out.
I have not been well for several months. And this was not only due to my tibial plateau fracture (fracture of the tibial plateau), which I suffered at the end of November.
Long before that, a kind of unwillingness to talk about "Omnia" crept in more and more. In a video I have also already suggested whether this issue on 4 REIFEN 1 KLO has not been exhausted. I also shared what will change for us in 2023 – but it wasn't soooo drastic then 😃. And because I needed some "distance" from Omnia, I also tried other cooking categories like pan recipes or even dressings for salads. It's also a change when camping, I thought 🙄. Moreover, they can also be put to good use at home, i.e. "at home". These recipes were also very well received by many. However, with 4 REIFEN 1 KLO one is more used to the "OMNIA" theme. And we Germans are simply stuck in many things. Just nothing new. No changes. This also brought me many comments again that you simply don't need 🤷‍♀️.
But how did it actually begin?
The orders were shipped directly from our 100 sqm flat for almost 4 years. You wouldn't believe what our flat looked like 🙈.
The former children's room of our Joanna, who had moved out shortly before, first turned into a small office. The cookbooks were packed on the windowsill and driven to the post office by car.
Shortly afterwards, the first OMNIA© products were added. At that time, the product range was still quite manageable with just a baking rack and silicone mould.
And within no time at all, our Smart car was no longer enough to fetch the goods from the wholesaler and our "flat" turned into a pure logistics centre 🙈. As funny and successful as it all was, if you have to look for the ironing board among all the packed boxes, then you should think twice. We desperately needed more space! So we looked for a warehouse and shipping hall. Which took quite a long timem….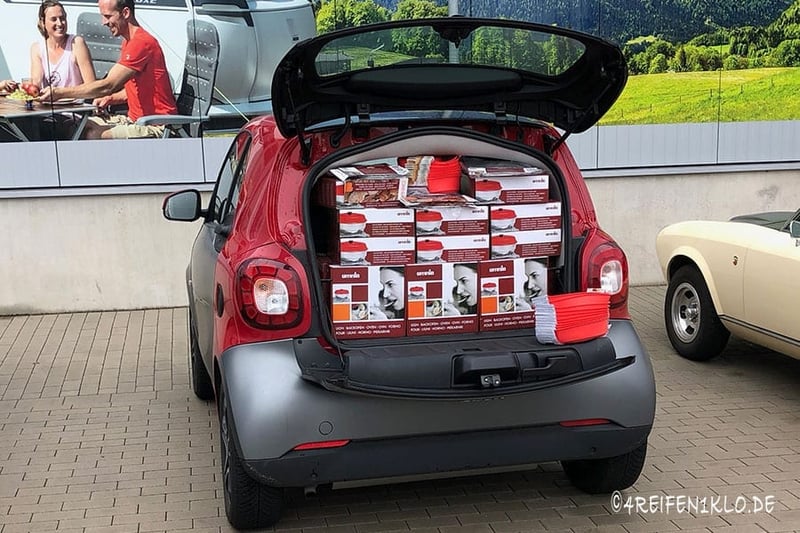 In June 2021 we moved into our shipping hall and Dennis, our Joanna's partner of many years, supported us first in shipping and then (for the time being in parallel) in video editing.
All the products that made our flat burst at the seams were simply lost in the big hall 😂. Suddenly it didn't look so violent any more 🙈.
In the meantime, other OMNIA© products were also added, which naturally supported their decision for a warehouse/shipping hall.
Dennis, Frank and I chatted around in such a small group that our products, which we brought from our flat, somehow got lost in this almost 500 square metre space. The area was divided into:
390 sqm warehouse/shipping
12 sqm master office (which later became our small lounge kitchen)
2 further rooms of approx. 50 sqm each
And through all the flapping around, the idea came up "Hey, we can also make a kitchen studio and shoot the YouTube videos there." The idea, since Corona ruled the world in 2021 and travel was not so possible, was of course super. And so a large adjoining room was already planned for a kitchen studio and production space. IKEA, we cooooome….
Our shipping hall filled up more and more. And as time went by, my day filled up more and more.
YouTube was a lot of fun. But it also requires a lot of preparation:
Plan theme
Shopping
Plan procedure
Tidy up the kitchen again
Viewing a cut video
Plan and prepare video for YouTube
And those were just my preparations. Such a cooking video often takes 3-4 hours, including preparation, cooking time and cleaning up. Apart from the shopping, which takes place beforehand.
And when you read the "nice" comments like "It's not exactly authentic", you could really bite the edge of your table! The whole thing was created during Corona. There was no driving away. Apart from the fact that our motorhome kitchen is not exactly a miracle of space.
Yes, but you can't please everyone 🤷‍♀️.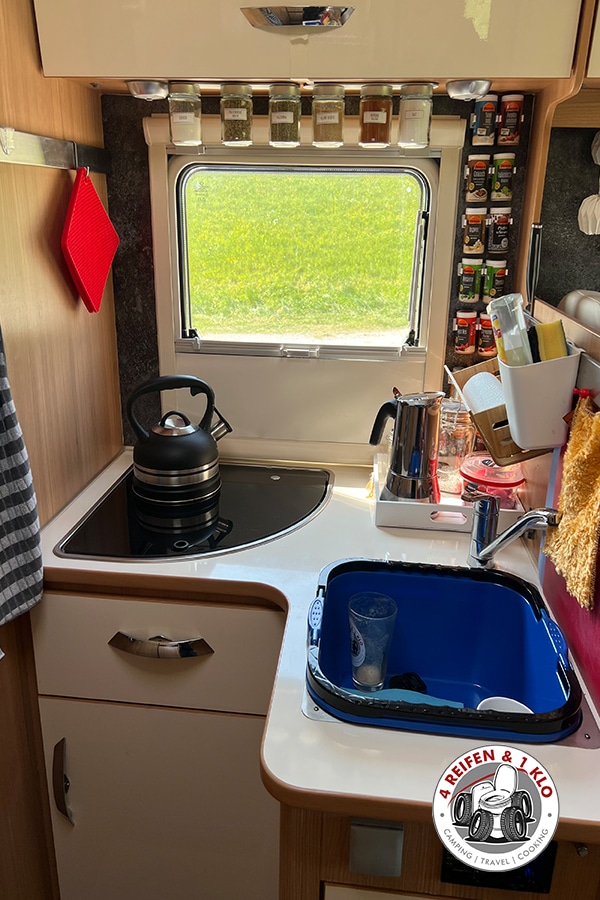 Now the first questions came to me
And at some point there came a time when I asked myself, "Gee, you're only doing advertising for OMNIA." New products. Recipes, where I presented and introduced OMNIA© products over and over again. Yes, OMNIA is one of them for me. I was closely associated with the product. But somehow I was the "OMNIA-QVC" 🙈. And I absolutely did not want to be THAT. I was 4 REIFEN 1 KLO – the camping food blog! And not the OMNIA shopping channel. Maybe it wouldn't have bothered me so much if OMNIA had also mentioned me on their social media channels now and then. After all, we had often been in contact and even met in person several times. But instead, other "influencers" or Facebook groups were mentioned. They also never accommodated us in terms of price. Even though we did sooooo much marketing for years, we just got the small trader prices. And of course a "You are very important for OMNIA". Sure, advertising is expensive and we got it for free 😉. But I think something like that is also a "give and take". One hand washes the other. People support each other. "We must work together", was said again and again from OMNIA's side. But for me it was not a "work together".
Do you know the MyZip bags? I made a video about it once. Just because I think these bags are really great. MyZip immediately sent me a voice message on Instagram because they were so pleased and shared the YT video. And then even a package with the MyZip bags in the new design arrived. I was meeeeega happy – simply because it came so unexpectedly 🤩. Even if I make a post about it, they share it and are happy. I think it's mega great! Even if I do it all for free 😁. Don't care about the beep-beep. But I am convinced of this product and do not feel like an advertising platform in this case. Here, "give and take" is the order of the day. I think that's a "work together", even if there's nothing in it financially. But we already support each other in this part – even if it's just about sharing contributions.
When someone writes about us on Instagram or Facebook, I'm as happy as a child at Christmas. Of course, I'm very proud to share this post on my social media channels, as long as I'm not so busy that I don't see it 🙈. But I'm working on that. Because that's why we want to get out, after all.
But the straw that broke the camel's back was these dumping offers from two traders, starting last autumn. The offers were just our purchase prices 😤. And of course this also applies to many other traders who became more and more annoyed about these dumping offers when I spoke to them on the phone.
A trader is even a wholesaler and therefore even gets wholesaler prices. That is why he can make these "offers".
For us the whole thing had a big impact
We had tons of returns, due to the offers, with the reason "found a cheaper product". Or they tried to bargain us down into going along with the price. Either way: for us it was always a minus business! For us, this has resulted in a lot of postage costs and also a lot of hassle. Here, service, support or quality no longer play a role. Stinginess is cool, as they say in Germany.
We have been constantly monitoring OMNIA products for years. If only for the reason that our customers are also satisfied.
In 2020, on the floor in our kitchen, I checked 5,000 Omnia ovens because the lid was stuck. Of course, I didn't check them all at once. But it was already 400 pieces a week. My day was really filled. But it was more important to us that our customers were satisfied. It also reduced return costs and the resulting complaints and dissatisfaction. Yes, one had nothing else to do during Corona. Even though our first priority was to reduce the cost of returns, at the same time we have, of course, always and again raised the OMNIA name higher in quality.
Then there was the broken bakery grille. We bent and pressed each grille to see if it was OK. Then the knob didn't fit because the screw was probably 2mm too long. We often sent a small washer to our customers so that the knob could be fixed. Such a chubby washer for 8 cents plus 85 cents postage.
There was always something. But you should not only get good support at 4 REIFEN 1 KLO, you should also get QUALITY!
Again and again, there was a hail of bad reviews for Omnia products on Amazon. But I didn't want any more bad Amazon reviews for products for which we couldn't do anything in terms of quality 😩. Frank, Josy and I had already been constantly reviewing the products for years. Subsequently, Dennis and Artur as well. But I/we are not the quality or marketing department of OMNIA. Or rather: the FREE quality or marketing department. Because that's how I felt more and more in the last months! 😔
This is partly another reason why we are parting with OMNIA© products. And I also have to say quite clearly: with 30 traders ONLY on Amazon, all vying for the "best price", we don't need to get our nerves shot. Let them keep up their dumping-slinging-lick-my-ass prices! If the manufacturer allows it….
I don't want to do this any more! I can safely say that OMNIA© has benefited well from 4 REIFEN 1 KLO and that I have played no small part in raising their profile. Of course, other companies have also benefited mega from this. There are now, for example, 4 or 5 suppliers on Amazon with this 2nd level. And I doubt that they all know the function or even the Omnia oven. The profitable OMNIA train is moving and everyone wants to earn money! 🤷‍♀️
Dealers/vendors then took the cake at CMT 2023! Customers who bought an Omnia oven at CMT and/or had questions about it were referred to 4 REIFEN 1 KLO 😡. Seriously! I have received enquiries and calls where they actually said/ wrote that they should contact us because there would be no time for detailed advice at the fair. This would even be agreed with us 😳. I was really at a loss for words. They do their business at the fair and we/I am supposed to provide support for them??? 😠 When I then kindly rejected the third "customer" and referred him to the dealer, we promptly got a 1-star rating on Google 😒. That can't be, can it??? I mean, other dealers do a deal, I'm supposed to explain and advise on the part for free and then I get kicked in the ass? Nah, that's just going too far! Another reason why we are dropping out.
Where do we go from here?
And where did that leave 4 REIFEN 1 KLO? Where were the new recipes? Why do many people not know that I have written 12 recipe books for the Omnia oven and already a recipe book for super simple and delicious salad dressings? 🤔 Well, because I lost the fucking focus!
Now Frank and I have really tidied up: not only OMNIA©, but also OXO, Dreamfarm and the Quirl have been removed from our online shop. All out! All gone! We now only sell our own products: Our cookbooks! 🥳
Everything will change. And our team goes along with it! They are also getting out.
The shipping hall is empty. The roller shutter closed. Triggered by an event that we did not foresee. Through an event that almost cost us our existence. Unbelievable! And no, it has nothing to do with OMNIA©, OXO or any other manufacturer. But it was meant to be. We needed a kick in the butt to take the step. To detach ourselves and get out.
Our cookbooks are now shipped via a full-fillment company. Nothing changes for you – only the sender 😉.
Frank is highly motivated to get back to the app – FINALLY 🙏🏻. He is starting this for the 3rd time now and he is looking forward to it. But now it should also come. First in a form so that you can easily use the recipes. Then the app is optimised more and more. That's the plan 😁. And when it comes to optimising, Frank also wants to get you on board. Some should be allowed to "put in their two cents". What do you want? What should the app "be able to do"? Does everything work? Is anything else missing?
I have the cookbook for the MAXI recipes waiting in the wings! It's been at the printers for a while. But there are still some changes to be made that I haven't had time for yet 😩. It makes me want to puke! Sorry 😁.
The international blog is to start 🤩. France, the Netherlands, Norway, Spain and even the USA want more from us! How crazy is that? 🙈🤩 The translations for the recipe books must finally go ahead. Translations of 3 volumes have long been available in Dutch, French and English. They just need to go to print – just 🙈.
Even now, as I write this post, I am very angry, but looking to the future makes me very optimistic. Yes, I have cried a lot, a lot in the last few weeks. Getting out is not easy. Yes, change is pretty hard in the beginning, chaotic in the middle and in the end…it does good. I went the whole way. Hard. Stony. But not alone! Frank accompanied me. And Artur, Dennis and Josy were always there too 😘.
Are we getting off YouTube too?
What happens to YouTube? The studio kitchen has also been dismantled. What will happen to the YT channel now?
Interesting question 😁. But we have also thought about that:
Frank and I have long had the plan to travel more. In recent years, this has been rather lost. And in the process, of course, we will continue the YT channel and make videos. We don't get off YouTube 😁. No matter what comments come 😂. There are even plans for a new, additional YT channel 🤩. But more on that later….
The decision in the last few weeks to drop out was not an easy one. Actually, it was not hit by us directly, but was triggered by something that almost cost our existence. So many tears have never flowed and filled my nights 😭. But we probably needed that lousy push from the "unforeseeable event"….
The last 6 years have been both fun and exhausting.
I have devoted my time to many products in recent years. And everyone benefited from it:
OMNIA, of course, right at the front. But then also the coating company, where I was excited about the coating and they were able to increase their production because of it. DREAMFARM has also noticed an increase in sales with their spoons in Germany. It was funny that we always got the offer for a sale 😂. An "exclusive offer" because we always have such a high order volume. So they want to make us this offer first. Oh yes 😁. Not to mention the OXO hand mixer. The regional salesman for our area was awarded "Top Salesman 2022". Well 🙄. Our wholesaler "Berger" was able to negotiate a "good purchase price" due to our high purchases 😡. And now he can make these "lick-my-ass dumping prices" because of it 😡. But they don't want to take our cookbooks 😉. They have an agreement with the "authors of the other OMNIA cookbooks"….
There are always things for sale in our Facebook group: Bags, any crocheted protective handles or boards. And why? Because 4 REIFEN 1 KLO is a name where you just want to earn money. Oh no 😩. We just want to entertain a little. No QVC!
4 REIFEN 1 KLO were the first to offer cookbooks in a set with Omnia products. We were also the first to do workshops and go to fairs to explain everything there.
On Amazon, you are now overwhelmed by all the offers. All of them offer "OMNIA sets". "Beginner sets", even "premium sets" are sold. And "the best set" of all is the 7-piece Premium Set. And with this set, the Omnia oven was counted as 3 parts at once: Lid with knob, middle part and bottom part =3 parts. Plus: a baking rack, silicone mould and – including a black transport bag 🤦🏼‍♀️. Gosh, the part (transport bag) is included with the Omnia oven 😂. You've got to be kidding me. Dealers do it no differently: set deals, dumping lick-me-on-ass prices, NO service or support (at least for most 😉 ).
OMNIA workshops" are now offered at all trade fairs and events. And there they also reveal "secret tips": "You can easily get your baking tin clean with dishwasher tabs" 😂. Great tip 🙈. Nooo, complete nonsense! Don't do that 🙈.
4 REIFEN 1 KLO is thus under observation. No matter which new product we offer – the dealers are already on the mat and want to sell the same product right away.
And I don't want any more of that! It's my blog, my passion and my thing 😁.
Things are no longer so round. We're working on that now….
Because hoping for change without doing anything for it yourself is like standing at the station waiting for a ship!
"Be an inspiration & enjoy the moment!" and that's where I want to be again. Frank and I want and need to focus on our core of 4R1K again – our TRAVEL & FOOD BLOG. And with fun, passion and a lot of joy. Without QVC!
So, now you know why we are "opting out" and I hope you continue to stick with 4 REIFEN 1 KLO, even without Omnia products 😉. And join us "Back to the roots" – back to the roots….
Therefore, we get off the OMNIA train and continue on our own train: 4 REIFEN 1 KLO! We still have places available. You are cordially invited 😉.
Kind regards
Your Bianca
P.S. If you don't know what QVC is 😂: It's a video shopping channel 😂.
We're moving into a camper van! Vanlife through Europe!
4 Reifen 1 Klo - Die Facebookgruppe!
Camping, Wohnmobil, Caravan, Backpacker, Dachzelte, Zelte, Segler, Kochen unterwegs, Grillen, Omnia-Backofen, Technik, Freunde finden – Hier gehts rund um unser Hobby!