The Gyros Kritharaki pan is simply prepared in a high pan. Either use ready-pickled gyros meat or marinate the gyros meat yourself. An ideal recipe for home or camping. This recipe is suitable for WW.
The gyros-kritharaki pan is simply prepared in a high pan. Either use ready-pickled gyros meat or marinate the gyros meat yourself, as shown in the video.
Kritharaki noodles are small grains of durum wheat semolina, sometimes called rice noodles because of their shape. You can often get this Greek pasta in the supermarket with the olives or Asian food. Alternatively, a well-known Italian pasta manufacturer offers the pasta variety "Risoni", which can also be used if necessary.
The Gyros Kritharaki pan is not only a great recipe for lunch at home, but also for cooking on the road when camping or cooking in your camper van, but you can also use it for your WW suitable recipes.
As a side dish, I recommend a delicious coleslaw 🤤.
I use the casserole* from "Stoneline" for my pan dishes.
You can find more recipes for the pan here.
👩‍🍳 4 REIFEN 1 KLO REZEPTE – Cooking recipes for camping and at home 👩‍🍳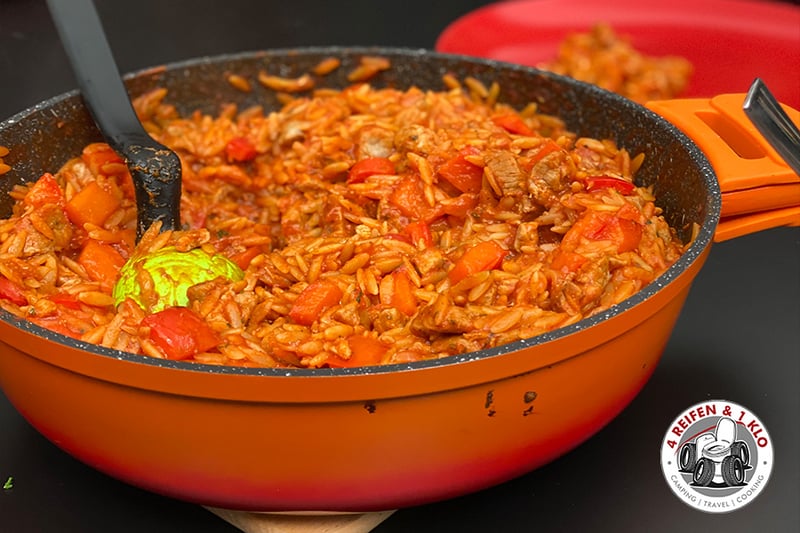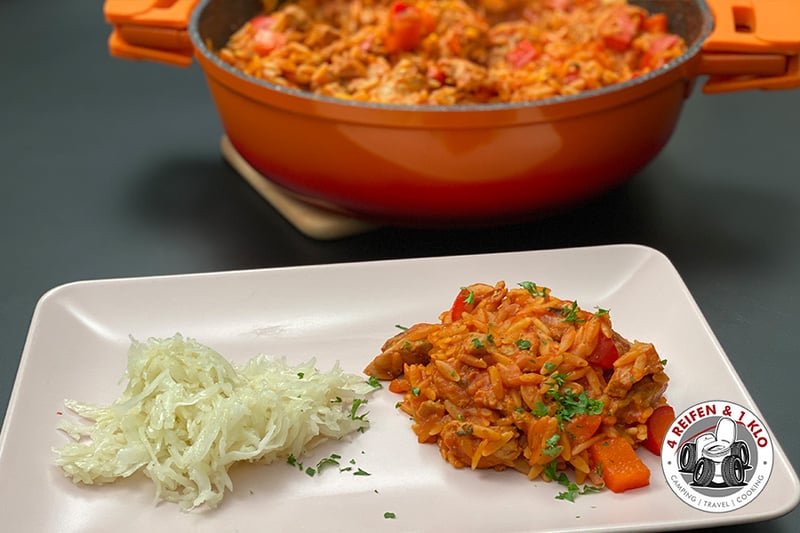 Ingredients:
750g gyros (alternatively: pork tenderloin, gyros spice, 3 tbsp vegetable oil, 2 small onions, 2 cloves garlic to marinate yourself)
400g Kritharaki pasta
2 peppers, red
500ml strained tomatoes
300ml broth
3 tbsp tomato paste
Oil for frying
Salt
Pepper
Preparation:
Cut the pork fillet into strips. Peel the onions and garlic. Cut the onions into half moons. Chop the garlic. Mix with the vegetable oil and gyros spice in a bowl. Alternatively, buy ready-made gyros meat.
Wash the pepper, remove the seeds and cut into small strips.
Heat a little oil in a frying pan. Fry the marinated pork fillet in it all over.
Stir in the tomato paste. Deglaze with strained tomatoes and half the stock.
Add the kritharaki noodles. Add the peppers and reduce. Stir every now and then in between. If necessary, add the remaining stock.
The gyros-critharaki pan is ready as soon as the noodles and peppers are soft.
You like the recipe? Then inspire others and share it !
Still hungry? More ideas against hunger!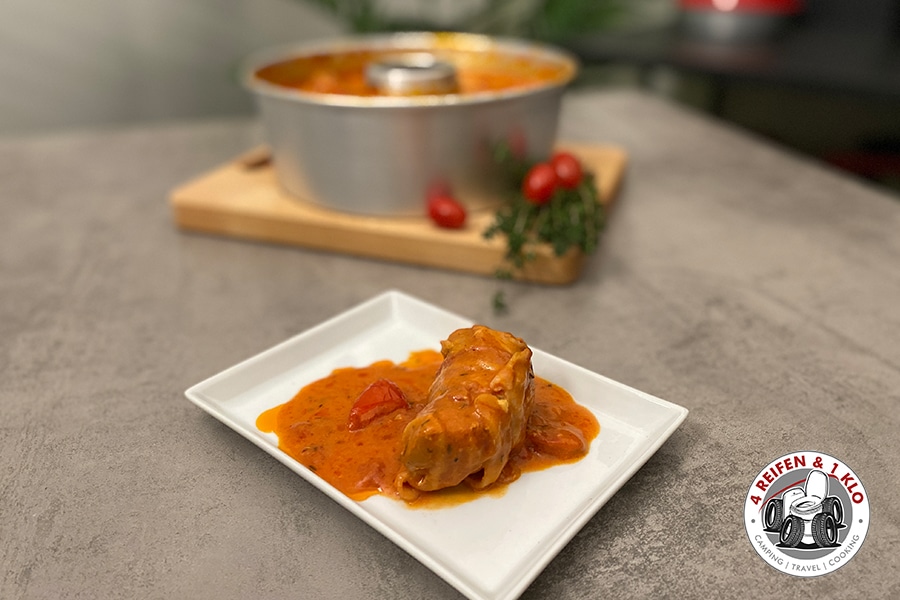 Tuscan Fillet Pot from the Omnia Maxi Mould Tuscan fillet pot from the Omnia Maxi
Read more
Affiliate links / advertising links
References marked with * are affiliate links and my very personal tips. If you buy something there, I get a small commission for this totally honest recommendation – without it costing you more. I use the products regularly and I can really recommend them to you!
Unfortunately, my recipes are repeatedly used for commercial purposes, hence this necessary note:
The work, including its parts, is protected by copyright. Any exploitation is prohibited without the consent of 4 REIFEN 1 KLO. This applies in particular to electronic or other reproduction, translation, distribution and making available to the public. Reprints, including excerpts, only with our written permission. Recipes may be shared, provided the source (URL) is mentioned.
This advice applies above all to those people who think that with my recipes create a commercial recipe book on Amazon or similar or build up his YouTube channel. We will prosecute this – even altered recipes will be prosecuted! By GPT altered prescriptions are easy to verify, and are also prosecuted by lawyers.
4 Reifen 1 Klo - Die Facebookgruppe!
Camping, Wohnmobil, Caravan, Backpacker, Dachzelte, Zelte, Segler, Kochen unterwegs, Grillen, Omnia-Backofen, Technik, Freunde finden – Hier gehts rund um unser Hobby!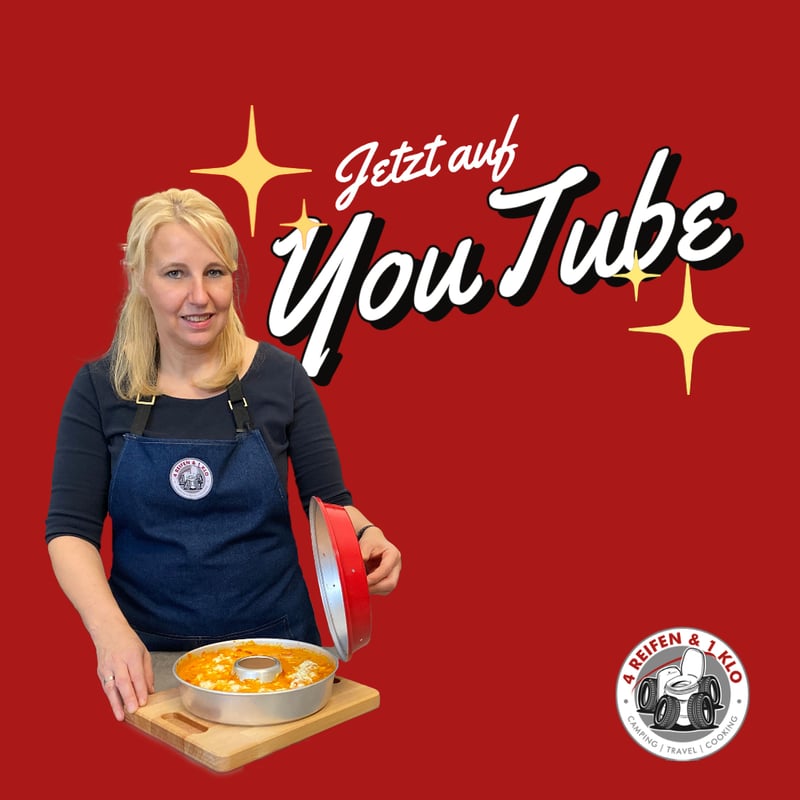 Der umfassende YouTube-Kanal rund um den Omnia-Backofen & Mehr