Creamy parmesan chicken, quick from the pan
The creamy parmesan chicken is so easy to prepare and the sauce is mega delicious. Also suitable as a LOW CARB recipe.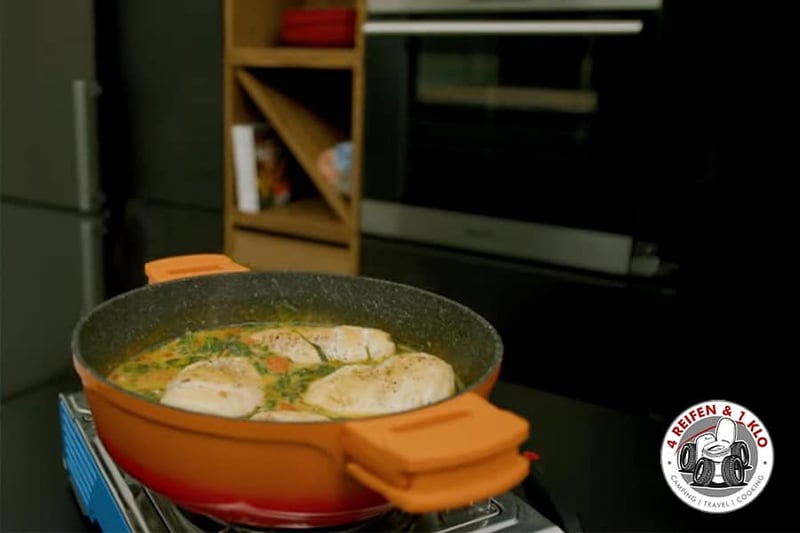 Creamy parmesan chicken with spinach from the pan
The creamy parmesan chicken is so easy to prepare and the sauce is mega delicious.
We were totally convinced by the creamy taste and the harmony in the flavours of the parmesan and spinach.
Anyone who eats a LOW-CARB diet will love this recipe. Few carbohydrates, but lots of flavour. And if you're not on a low-carb diet, we recommend tagliatelle with it. The creamy parmesan-spinach sauce sticks particularly well to these wide, long noodles.
Parmesan chicken with spinach quickly prepared in the pan.
Since many people keep asking me which pot I use in the video on YouTube:
I use a casserole, which is a roasting pan that works very well as a high pan, 28cm in diameter. Weighs just 1.5kg and is suitable for any type of hob (including induction). The roaster is from the "Stoneline" series*.
1.2 kg chicken breast
200 g leaf spinach, fresh
100 ml broth
250 ml cream (light)
100g cocktail tomatoes
50 g parmesan, grated
2 onion
2 clove of garlic
Salt, pepper
Oil for frying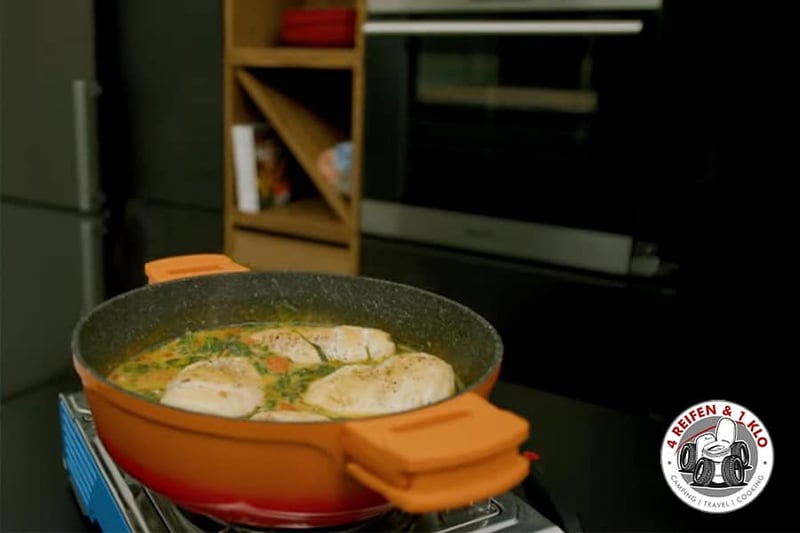 Wash the chicken breast and, if necessary, remove the skin and tendons. Season with salt and pepper.
Heat a little oil for frying in a high pan. Fry the meat in it on both sides.
Peel the onion and garlic. Dice the onion and chop the garlic.
Wash and dry the spinach. Wash and halve the cocktail tomatoes.
Remove the browned chicken breast fillets from the pan and set aside.
If necessary, heat some more oil in the same pan. Lightly fry the onions and garlic in it. Add the spinach and fry for 2 min. Stir regularly.
Deglaze with stock and cream, lower the heat and stir in the cheese.
Season to taste with salt and pepper. Add the cocktail tomatoes and the meat and, if possible, cover and leave to simmer over a low heat for 5-8 minutes.
This recipe is low in carbohydrates and is perfect for the LOW CARB diet. Otherwise, tagliatelle are perfect, as the creamy sauce sticks to the long, wide noodles.
You can find many more pan recipes on my blog.
And here is also the video instruction:
The redirection is to YouTube. You may need to change the privacy policy to see the video. You know…GDPR!
Affiliate links / advertising links
References marked with * are affiliate links and my very personal tips. If you buy something there, I get a small commission for this totally honest recommendation – without it costing you more. I use the products regularly and I can really recommend them to you!
Unfortunately, my recipes are repeatedly used for commercial purposes, hence this necessary note:
The work, including its parts, is protected by copyright. Any exploitation is prohibited without the consent of 4 REIFEN 1 KLO. This applies in particular to electronic or other reproduction, translation, distribution and making available to the public. Reprints, including excerpts, only with our written permission. Recipes may be shared, provided the source (URL) is mentioned.
This advice applies above all to those people who think that with my recipes create a commercial recipe book on Amazon or similar or build up his YouTube channel. We will prosecute this – even altered recipes will be prosecuted! By GPT altered prescriptions are easy to verify, and are also prosecuted by lawyers.
4 Reifen 1 Klo - Die Facebookgruppe!
Camping, Wohnmobil, Caravan, Backpacker, Dachzelte, Zelte, Segler, Kochen unterwegs, Grillen, Omnia-Backofen, Technik, Freunde finden – Hier gehts rund um unser Hobby!