Chicken pasta – tasty & easy from the pan
A one-pot recipe from the pan that children will also like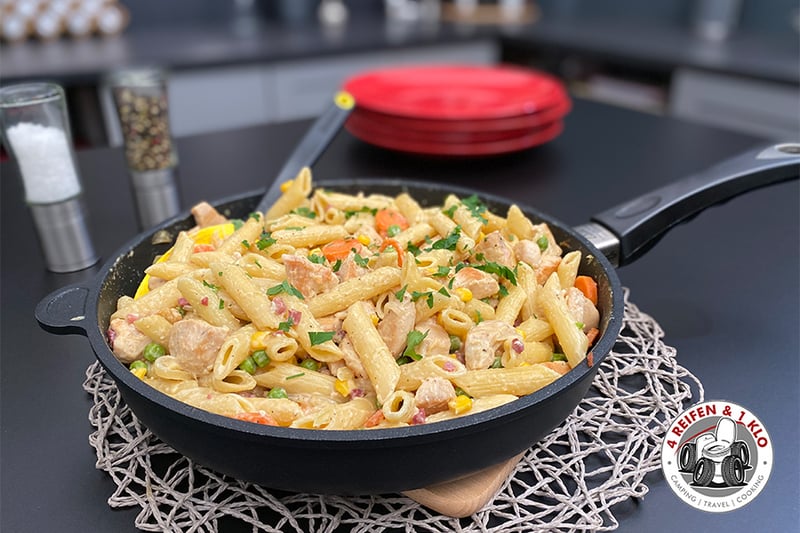 Chicken pasta from the pan 😁. This is a recipe that I also prepare very often at home. Simply because it's easy, quick and delicious. and to my absolute delight, my hatchlings have always loved this recipe too.
I always thought it was bad that I couldn't get a gram of vegetables in the two girls. At least not cooked vegetables. Cucumber or tomatoes always worked. But as soon as it was in the food…..Bäh 🤬.
The chicken pasta is really easy to prepare. I also often make stir-fry dishes when we are travelling with the camper van. Yes, it's hard to believe: at 4 REIFEN 1 KLO there are actually not exclusively Omnia dishes 😂.
Shall I reveal another "secret"? We also barbecue 😱.
But, since I think that one or the other also likes to prepare food with the pan (or maybe not with the Omnia oven??? 😱), I didn't want to deprive you of the chicken pasta with chicken breast, noodles and vegetables of carrots, peas and corn.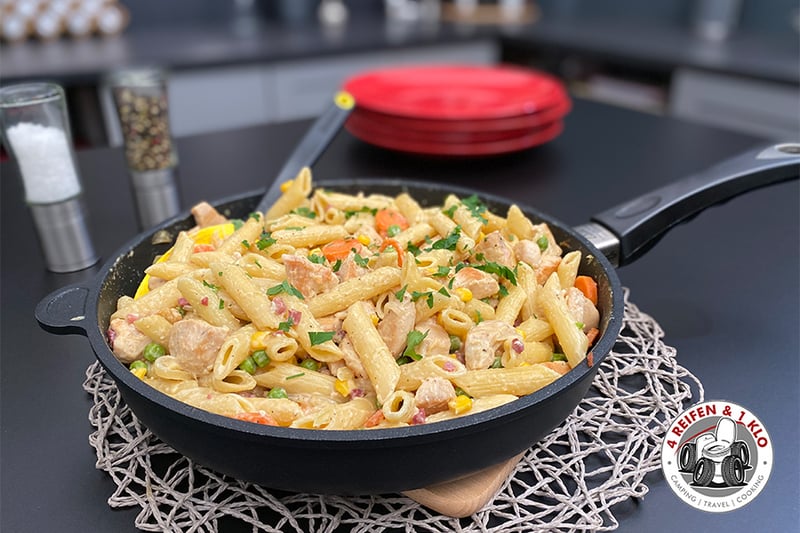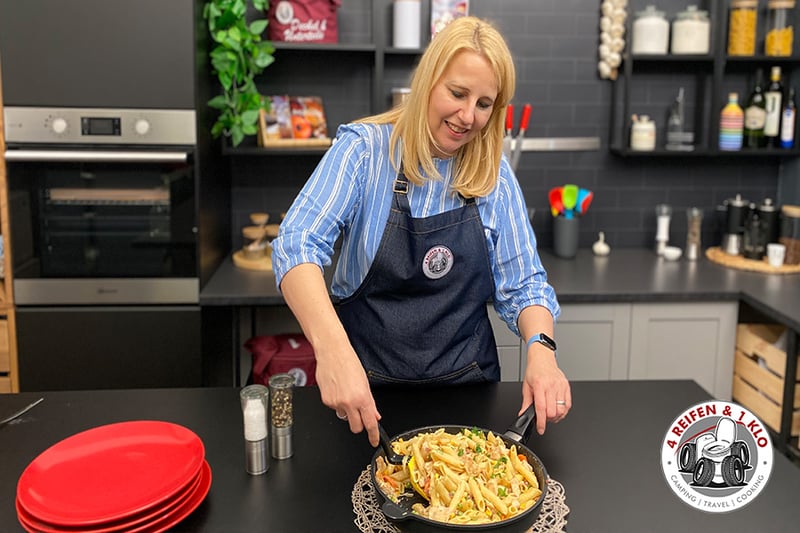 200g tubular noodles
1 onion
400g chicken breast
50g diced ham
100g peas frozen
100g carrots fresh
1 small can of corn
4 tbsp cream cheese
200ml broth
Salt
Pepper
a little oil for frying
Pre-cook the pasta in salted water. Alternatively, you can also use noodles from the refrigerated section.
Wash the chicken breasts and, if necessary, remove the tendons and skin. Then cut into bite-sized cubes.
Heat a little oil in a frying pan. Fry the chicken breast pieces until golden brown all over.
In the meantime, peel the onion, halve it and cut it into half moons.
Peel the carrots and cut into slices.
Drain the maize.
Remove the browned chicken breast pieces from the pan and place on a plate to the side.
Lightly fry the ham cubes with the onions in the remaining frying fat. Add the carrot slices and peas. Deglaze everything with the stock and let it boil down.
When the carrots are soft (you may need to add some stock in between), stir in the cream cheese and season everything with pepper and salt.
Fold in the noodles and sautéed chicken breast, as well as the corn. Heat briefly.
Season everything to taste and serve.
You can find the matching video on my YouTube channel.
And here is also the video instruction:
The redirection is to YouTube. You may need to change the privacy policy to see the video. You know…GDPR!
Unfortunately, my recipes are repeatedly used for commercial purposes, hence this necessary note:
The work, including its parts, is protected by copyright. Any exploitation is prohibited without the consent of 4 REIFEN 1 KLO. This applies in particular to electronic or other reproduction, translation, distribution and making available to the public. Reprints, including excerpts, only with our written permission. Recipes may be shared, provided the source (URL) is mentioned.
This advice applies above all to those people who think that with my recipes create a commercial recipe book on Amazon or similar or build up his YouTube channel. We will prosecute this – even altered recipes will be prosecuted! By GPT altered prescriptions are easy to verify, and are also prosecuted by lawyers.
4 Reifen 1 Klo - Die Facebookgruppe!
Camping, Wohnmobil, Caravan, Backpacker, Dachzelte, Zelte, Segler, Kochen unterwegs, Grillen, Omnia-Backofen, Technik, Freunde finden – Hier gehts rund um unser Hobby!